I took a few final photos before we left Distant Drums RV Resort.
This moon was just a sliver, so pretty. When I zoomed in, I could see the whole circle, but to the naked eye, only the crescent showed.
There were a lot of planes overhead during the day with these chem trails - I tried to get a photo of the actual planes, too. In this one, you can barely see the plane.
When Katie and I were taking a walk, a colorful insect flew by, with the sunshine highlighting iridescent colors. He landed on the lawn. I wish I could have gotten him flying - he looked a little like a firefly.
We left Camp Verde, AZ on Wednesday morning, and drove toward Quartzsite, through Blythe and onward, until we arrived in Indio, CA. It was such a nice drive!
Every time I drive The Palms, it's like a spiritual experience, I feel so free and just love seeing the countryside, whether it's desert, forest, or city, there's always something interesting to see.
This time the best part was the continual forest of flowering Saguaro Cactus. I stopped a couple of times to snap some photos.
Pretty flowers, see the bee on the left?
These unopened flower buds are very pretty up close.
The Saguaros mostly had flowers just on the tops of their stalks (or arms?).
All the arms had lots of flowers on the top, beautiful.
This one has lots of arms, and tons of flowers.
We stayed Wednesday night at Fantasy River Casino. The RV overnight parking is a plain parking lot right outside the regular parking lot for the casino. I called, and they said parking was fine, I didn't need to check in with anyone. I didn't see any security or casino vehicles come by. It was very windy and super dusty. Really noisy all night. The parking lot is right off the freeway, and next to the driveway that all the cars going to and from the casino used, plus the big rigs that came and went during the night. It was so hot, I needed the bunk window open to cool things off a bit, but that increased the noise, and I worried about dust being blown into my bed.
And you should have seen the gusts!
I didn't sleep well. But it was free, and I appreciated being able to overnight there.
The next day I went to the lab to have my blood test done. Then I went to Costco in Rancho Mirage and returned my TV. It was too big for the spot it was in. I bought a new one from Walmart a few days ago, a duplicate of the first one I got. It's lighter and smaller and fits much better. It also has a better picture. So I returned the Costco one and while I was there I bought a ton of fruit and some fresh asparagus. I have so much fruit, I can't fit it all in the fridge. I always eat a lot of fruit, but since I've been trying to shop only every other week, I'm trying to make it last. I was really craving strawberries and avocados, and now I have tons of both, plus blueberries, six small cartons of raspberries, bananas, blackberries, apples, oranges, etc.
When I went through the checkpoint back into California, the Border Patrol agent asked me if I had any produce. I said, "Yes, what is not allowed?" He said, "What do you have?" I thought a minute and said, "Apples,oranges, bananas, blackberries, blueberries, strawberries." He thought a minute and said, "Have a nice day." As I drove away, I realized I only told him about the fruit. I also had lettuce, two kinds of tomatoes, an onion, garlic bulb, and other veggies. Oh, well. Then I go to Costco and get more!
Right across the street from Costco was a Walmart, so I called and asked if I could overnight in their parking lot. She said, yes, but it's best if you park by our gas station. I didn't see a gas station, so I parked at the edge of their parking lot. It was quiet all night, and Katie and I slept in until 9:45 this morning.
I spent the day here, until early afternoon, checking on-line for my test results. The lab said one would be available in a day, the other on Saturday. Unfortunately, the first one I was able to pull up on line is higher that the February test, so that wasn't good. Rats! I sent an e-mail to my doctor to see if she would need to see me, or if I'd need meds, or if we would just wait and see again. I got an answer from her staff, stating they would wait for my second test result and then forward my e-mail to the doctor.
Unfortunately, since it's a holiday on Monday, the doctor won't get my test results or e-mail until Tuesday, so I'm stuck here until at least Tuesday. No point in driving anywhere until I know what I need to do.
This afternoon I needed to move to another location, and as I was driving past the Walmart, I realized there was a Sam's Club in the same parking lot, with a gas station, so that must be what the woman on the phone meant. Since it's a completely different area, I decided to park here for the night. There are also a few other places in the area where I can blacktop park until I need to leave.
I hate just waiting around, but really, I'm retired, it's not costing me anything, and I'm probably doing about what I'd be doing if I was in a New Mexico State Park, I just don't have a pretty view out the window. So it's not such a big deal.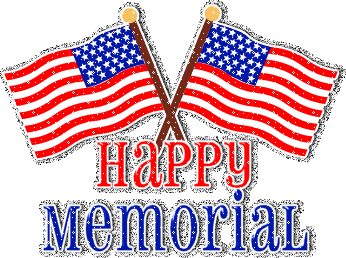 From Me and Katie, Have a Happy Memorial Day Weekend, everyone! :)